Australian standard handset cords / Universal Telephone Handset cords
Fits all corded telephones.
These cords come complete with standard small 4P4C Modular plugs at each end.
4P4C modular plugs are often various names. Including RJ11, RJ22, RJ10, or RJ9.
These cords go from the wall or desk mounted telephone to the handset.
These cords have the correct small plugs for telephone handsets.
These plugs are 7.7mm wide. Definitely not the bigger 9.65mm plugs that go from the wall to the phone.
*These cords are Australian Communications and Media Authority (ACMA) approved. Beware of cheap non-compliant imports!
We have three lengths.
Standard,  3m Total Cable Length. Extends to 2.4m Max.
Long, 5m Total Cable Length. Extends to 4m Max.
eXtraLong, 8m Total Cable Length. Extends to 6.4m Max.
Black is the default colour.

+GST
FREE DELIVERY within Australia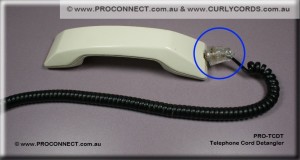 Telephone Cord Detangler / Twist Stopper
Goes between handset and cord to reduce or prevent the cord twisting up.
+GST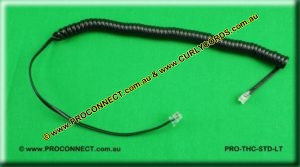 *in the Standard length, we can also supply them with long straight tails on one end.
Telephone Handset Curly Cords with Long Tail
Complete with plugs.

Part Number & Available Colours


Total amount of cable per cord

Maximum Working Length

Price Each
Not Including GST

Order Here

PRO-THC-STD-LT


Black only.

3m

2.4m

$8.75
We often get inquiries asking if our cords fit a particular model phone.
We are not experts on all the various phone manufacturers…but if your cord has the same connectors shown in the picture above…..the answer is YES.
These are standard cords which fit almost all phones.
So unless your cords are molded into the phone, or use a non-standard connector: you should be good to go.
Just a matter of selecting the length you prefer.
Just a few of the phone systems that our cords have been used on:
Telstra landline wall phone
Grandstream GXP1628 IP
Global tech  inter phone system
Brother fax machine  FAX-2820
Yealink sipt28p phone
Cisco 7912, 794X, 796X series phones
Cisco 9971 IP phones
LG Nortel LDP – 7016D P Phone
LG LDK phones
Avaya phone 9650
and on and on…