We offer a special Industrial Grade Cat5e UTP Network cable
These do not use ordinary cat5e cable.
This special construction includes highly stranded wire:-
45 super fine strands of 0.08mm² 45/.08bc,
Also included is a Kevlar central strength members,
And our special polyurethane jacket.
These cords extend up to 4 times their compressed length.

Series Part Number
PRO-Cat5e-PU-XXX (optional-T)
Where XXX is the coil length
Normally supplied unterminated.
Can be supplied with standard RJ45 connectors if required. Add -T suffix to the part number
Coil Lengths:
300mm extends to 1.2m max
500mm extends to 2m max
1000mm extends to 4m max
1800mm extends to 7.2m max
Custom (MOQ's apply)
Please email sales@proconnect.com.au  for prices.
We have a new cable which not only has a cat5e 4pr cable, but 2x 1.5mm² DC power cable as well, all in a very robust Polyurethan sheath.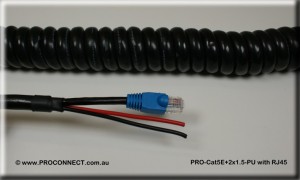 We can also supply and fit special water resistant industrial grade RJ45 connectors!
We have an small quantity of a special  cable, which is two of the above cables formed into a figure 8 construction, Which we supply straight or curly.

Bulk regular straight patch cords available at wholesale prices.