Many of our Multi-core Power & Control Cords are used for lighting circuits in extendable lighting towers.
In addition to the standard configurations many can be configured as "XS" Extra Stretch cords to allow for the extra height required for some taller lighting tower applications.

We have also make cords using Tinned Copper Braid Screened cable which have been used in mining/pit applications where the lighting cords are required to have "metallic covering which is electrically continuous, connected to earth, protected from corrosion and securely attached to the equipment at both end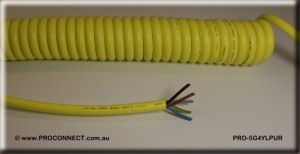 s."
Shown is a picture of the 12G1.5 but other configurations may also be possible.
P.O.A.
Please email Sales@PROCONNECT.com.au  with your detailed inquiry.