We are now able to produce INTERBUS curly cords.
Remote Bus Cable (RBC)
Suitable for highly flexible applications frequently moved machine parts instead of using power chains or cable tracks.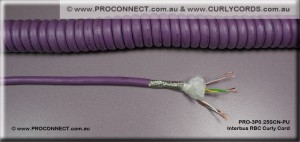 These cords can of course be used for a variety of other application.
Construction:
3 twisted pairs
100 Ohm Characteristic Impedance
60 nF/km mutual capacitance at 800Hz
0.25mm²
Braid Screen
Polyurethane sheath 7.9mm nominal
Coil Lengths include:
300mm
500mm
1000mm
1200mm
1300mm (may have in stock…please email to confirm)
1500mm
1800mm
Custom coil lengths made to order (MOQ's apply)
Straight tail length:
150mm
Custom tails lengths made to order (MOQ's apply)
Note: Unless specifically indicated, all curly cords are supplied UNTERMINATED.
Remember: we have an extensive range of connectors, and wiring accessories.
Please ask us about these as well.