We keep 4mm² and 6mm² in very nice flexible Polyurethane.
We can also supply much larger versions. From 16mm on up in a TPR Rubber.
I have listed:
16mm, 25mm, 35mm, 50mm, 70mm, 95mm, and even 120mm
With these larger sizes there may be minimum order quantities required.
Supplied Unterminated.
Other lengths also available. Up to 1.8m compressed or 10.8m extended. MOQ's may apply.
PRO-1x4PUR-GN/YL-200-100
Single Core 4mm² Super-Stranded 224/.15 bc Double Insulated Polyurethane/Polyurethane. Abrasion Resistant, Oil Resistant, Flame Retardant. Wire. 6.8mm Nominal O.D.
Formed into a curly cord with a compressed coil length of 200mm.
Cord includes additional 100mm Straight Tails
Nominal outside diameter of coil 32 mm
Normal maximum extend length of 1.2m Plus Tails.
Total extended length including tails of 1.4 m.
Approx. 0.2 kg Per Cord
PRO-1x4PUR-GN/YL-300-150
Single Core 4mm² Super-Stranded 224/.15 bc Double Insulated Polyurethane/Polyurethane. Abrasion Resistant, Oil Resistant, Flame Retardant. Wire. 6.8mm Nominal O.D.
Formed into a curly cord with a compressed coil length of 300mm.
Cord includes additional 150mm Straight Tails
Nominal outside diameter of coil 32 mm
Normal maximum extend length of 1.8m Plus Tails.
Total extended length including tails of 2.1 m.
Approx. 0.3 kg Per Cord
PRO-1x4PUR-GN/YL-500-150
Single Core 4mm² Super-Stranded 224/.15 bc Double Insulated Polyurethane/Polyurethane. Abrasion Resistant, Oil Resistant, Flame Retardant. Wire. 6.8mm Nominal O.D.
Formed into a curly cord with a compressed coil length of 500mm.
Cord includes additional 150mm Straight Tails
Nominal outside diameter of coil 32 mm
Normal maximum extend length of 3m Plus Tails.
Total extended length including tails of 3.3 m.
Approx. 0.4 kg Per Cord
PRO-1x6PUR-GN/YL-200-100
Single Core 6mm² Super-Stranded 342/.15 bc Double Insulated Polyurethane/Polyurethane. Abrasion Resistant, Oil Resistant, Flame Retardant. Wire. 7.8mm Nominal O.D.
Formed into a curly cord with a compressed coil length of 200mm.
Cord includes additional 100mm Straight Tails
Nominal outside diameter of coil 34 mm
Normal maximum extend length of 1.2m Plus Tails.
Total extended length including tails of 1.4 m.
Approx. 0.2 kg Per Cord
PRO-1x6PUR-GN/YL-300-150
Single Core 6mm² Super-Stranded 342/.15 bc Double Insulated Polyurethane/Polyurethane. Abrasion Resistant, Oil Resistant, Flame Retardant. Wire. 7.8mm Nominal O.D.
Formed into a curly cord with a compressed coil length of 300mm.
Cord includes additional 150mm Straight Tails
Nominal outside diameter of coil 34 mm
Normal maximum extend length of 1.8m Plus Tails.
Total extended length including tails of 2.1 m.
Approx. 0.3 kg Per Cord
PRO-1x6PUR-GN/YL-500-150
Single Core 6mm² Super-Stranded 342/.15 bc Double Insulated Polyurethane/Polyurethane. Abrasion Resistant, Oil Resistant, Flame Retardant. Wire. 7.8mm Nominal O.D.
Formed into a curly cord with a compressed coil length of 500mm.
Cord includes additional 150mm Straight Tails
Nominal outside diameter of coil 34 mm
Normal maximum extend length of 3m Plus Tails.
Total extended length including tails of 3.3 m.
Approx. 0.5 kg Per Cord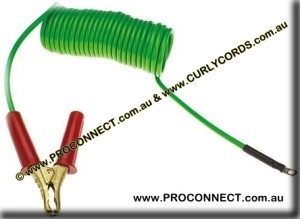 PRO-EC4-3m
4mm² Static Earthing Curly Cord Extends to 2m (3m total length)
25mm Alligator clip, 10mm Ring Terminal
$167.00
Click here to order