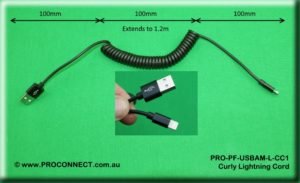 PRO-PF-USBAM-L-CC1
Data Sync Charge Curly Cord Cable
USB to Lightning
100mm Coil (when compressed) with 100mm straight Tails.
Approx. 300mm Extends to 1.2m.Designed to fit all modern iPhone models including 7 6 6S Plus 5 5S SE iPad iPod
(Sometimes called a 1.6m or 5 foot, as that is the total amount of cable in the cord.)
$23.50
Click here to order
We have a limited number of USB to iPod 30 Dock connector.
Sometimes called 1m cords because that is how much cable is in them.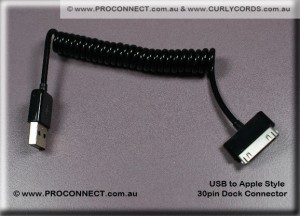 Approx 80 mm (8cm) coil + short straight tails.
Will extend to a max of around 700 mm or so. (0.7m)
They are just the shot to tidy up your car stereo, or when charging the iPod at your desk.
Part Number: PRO-PF-USBAM-DOCK30-CC1
$17.50/each +GST including FREE Delivery within Aus.
Note: These are the old style dock connector for older models.