If you are looking for any sort of curly cord…you found it!
www.CURLYCORDS.com.au is owned and operated by PROCONNECT PTY LTD.
www.PROCONNECT.com.au
We  are a full time manufacturer and supplier of Curly Cords. Produced right here in our small family owned commercial facility in the Brendale Industrial Area, in Brisbane, Australia.
Buy from an Australian Company!
As we are primarily a business to business supplier:
All prices listed on our websites, or quoted via phone or email are exclusive of GST.
(Add 10% GST for Australian orders.)
We are very please to now be able to offer FREE Delivery (regular Australia post or similar service) for all Curly Cord orders Australia wide.
Clients also have the option to pay extra for express or air freight to most locations as well.
We are a small, family owned business, so for prompt, personal attention, please drop us an e-mail with the details of your inquiry.
Please let us know how we can be of service.
Best Regards
Paul Scott
Owner-Manager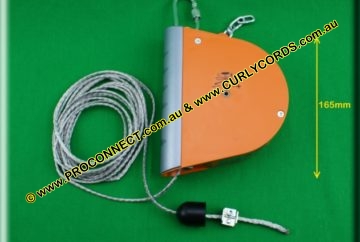 Retractor Mech Part Number: PRO-RM2M The special retractor mechanism has an integrated ratchet feature. When pulled down it latches in place. To raise it again, simply give it a slight downward pull down (not to the side), and rapidly push upwards. (while maintaining control!) Very similar in operation to Venetian blinds. Often these retractors […]